Hitting the Road to Promote Maine's Assets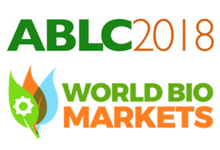 Over the next month, we're hitting the road for the start of our 2018 effort to market Maine's assets to the global biobased industry at conferences in the U.S. and abroad.
If you're a Biobased Maine member and you haven't already given us your promotional materials to bring to these conferences, please contact us. We can include your materials in our exhibit, which is a great way to promote your company to the major brands and investors that attend these leading industry events.
We'll be at ABLC 2018, the leading national conference in biofuels, renewable chemicals, and policy, in Washington, D.C., from February 28-March 2. We'll network and promote Maine's assets to technology companies, investors, policy makers, economic development agencies, and feedstock providers.
Then, from March 20-22, we'll be in Amsterdam for World Bio Markets, the leading European biobased industry conference. Major brands that are looking to replace petroleum raw materials with sustainable feedstocks (like forest residues) will be in attendance—including Apple, Procter & Gamble, Coca Cola, and more. You can download a list of attendees here.
We know that investors aren't going to magically discover Maine on their own—we need to go after them. Get in touch today to find out how you can join our efforts to market Maine's assets both at home and abroad.