Maine Coasters and Bio-Boards Launches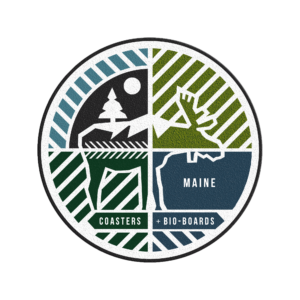 A new Maine company is leveraging the state's powerful growth in craft beer to launch an innovative concept for the forest products industry. Founded by Falmouth native Kai Smith, Maine Coasters & Bio-Boards is developing beverage coasters made from Maine softwood pulp as well as leftover or "spent" grain from local breweries.
The company was recently awarded a $25,000 seed grant from the Maine Technology Institute to manufacture prototypes at the University of Maine Process Development Center in Orono.
According to Smith, a majority of the world's coasters come from raw materials in Germany. They are typically processed using softwood pulp like pine and spruce from the Black Forest and then shipped to the U.S. and Canada for printing. Smith is working with the Process Development Center to build the prototypes, evaluate the size of the market, and locate mills for commercial production.
Smith notes that there are a lot of different components that make the business interesting. For one, craft beer is now among the state's biggest industries, with an estimated economic impact of over $220 million in 2016. Another obvious advantage is Maine's access to pulp and existing mill infrastructure, which he hopes will help reduce major startup costs.
There's also the artistic component. It can't be overstated how crucial artwork has become to the branding and marketing of breweries, and Smith hopes to use the coasters as a way to further showcase this aspect of Maine beer.
Smith is working with a small group of advisors including Sean Sullivan of the Maine Brewers' Guild, Heather Sanborn, co-owner of Rising Tide Brewing, and Biobased Maine.
The company's prototypes are expected to be released to breweries this spring. The company will be providing them at no cost in exchange for participation in two brief surveys to complement a market study being carried out with the grant. More information is available on the company's website: www.mainebeercoasters.com