Biobased Maine to Exhibit at ABLC 2017
Biobased Maine will be attending and exhibiting at the Advanced Bioeconomy Leadership Conference 2017 in Washington DC from March 1-3, 2017. Biobased Maine, represented by its Executive Director Charlotte Mace, along with our partner the University of Maine (Dr. Hemant Pendse and Amy Luce) will be actively marketing Maine's assets to support biobased manufacturing. We will be generating leads to help attract investment to Maine in biobased manufacturing.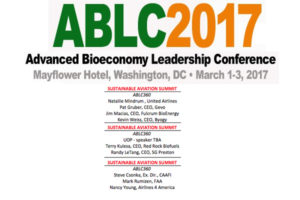 The conference is a major event within the global biobased technology industry, combining six conferences in one, including: The Advanced Fuels Summit, the Renewable Chemicals Summit, the Aviation Biofuels Summit, the Gas Conversion & Markets Summit and ABLC Feedstocks. Also, Maine's Governor Paul LePage will be in attendance to offer a special address about how the State of Maine is committed to creating good jobs by using our renewable resources to make the next generation of materials that the world is demanding. We couldn't agree more.
For more information about how your membership in Biobased Maine can be leveraged at ABLC 2017, as well as other national and international industry conferences, contact Charlotte Mace at 207-699-5792.