Biobased Maine's Executive Director Named to MaineBiz NEXT List
We couldn't be prouder!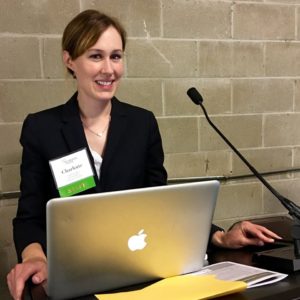 Biobased Maine Executive Director Charlotte Mace is on the 2016 Mainebiz NEXT list. She's one of just 10 people selected in the state for work they're doing to lift Maine's economy.
Mainebiz told Charlotte she's on the list because of what she says and does.
Charlotte says Maine deserves a share of the growing global market for biobased products made from renewable resources that come from forest, farm, and sea.
"Maine has got to be a player, too," she told Mainebiz. "My goal is to move the whole sector and get it growing our local economies again, with good-paying jobs, and making products that the whole world wants. Good manufacturing jobs is what will alleviate the stress in rural Maine."
What does she do? Work that recently has been recognized and funded by the U.S. Economic Development Administration, with a $519,930 grant. Biobased Maine is working with the University of Maine to map Maine's biobased assets to market them to investors in new technologies. The project also will help Maine forest-products manufacturers and users implement new biobased technologies.
Please join us in congratulating Charlotte Mace and Biobased Maine for shining a spotlight on sustainable growth for the Maine economy.
And if you haven't done so, yet, join Biobased Maine to support a healthy Maine economy and good-paying jobs for hard-working people.