Biobased Maine Awarded $519,930 from EDA to Advance Biobased Manufacturing in Maine
7/29/16 – "Today's announcement by the U.S. Department of Commerce's Economic Development Administration is a milestone for the 'plants to products' strategy that can breathe new life into Maine's forest economy.
"This substantial federal grant award will help advance biobased manufacturing – a strategy that uses new technology to convert renewable resources from forest, farm, and sea into value-added biobased products."
"Biobased Maine's goal is to help Maine create good-paying jobs and revitalize rural communities by producing safe, renewable, climate-friendly products for which there is rising global demand.
"With this funding, Biobased Maine, along with its partners, will begin work with stakeholders statewide to comprehensively map and then market Maine's biomanufacturing assets, including our state's industrial infrastructure, transportation systems, workforce strength, and financing options. Similar 'roadmaps' in other states guide investors and help attract substantial new investment.
"Biobased Maine is proud to partner with the University of Maine for this significant project. We are grateful to the U.S. Economic Development Administration and Maine's congressional delegation for support of this unique collaboration to grow Maine's jobs."
About Biobased Maine
Biobased Maine is an industry trade association that promotes the sustainable use of renewable biomass from forests, farms, and sea to manufacture the next generation of biobased chemicals, materials, and fuels. We aim to expand biobased product manufacturing in Maine through applied research, technical assistance, and information sharing that supports new product development, process engineering, and market assessment. Our members include manufacturers, raw material suppliers, landowners, farmers, consultants, research institutions, private equity and nongovernmental organizations. All are committed to growing a biobased industry in Maine.
Across the globe, demand for advanced biobased products continues to grow rapidly. A 2014 report by the U.S. Department of Agriculture said the growing biobased economy in the United States offers great potential for increased job creation across the country. The report projected a $1 trillion global market for biobased chemicals alone. – Statement of Charlotte Mace, Executive Director, Biobased Maine
Photos from EDA's July 29 Press Conference at the University of Maine: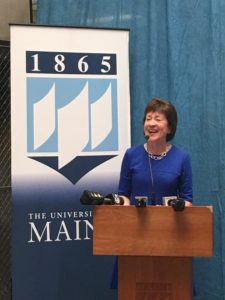 Senator Susan Collins said during the press conference that "sometimes we get it right," with respect to the government coming together to make things happen. Senator Collins also said the revitalization of our forest industry will happen through innovation, and we have numerous assets to make this happen, including a targeted and highly skilled workforce. She also mentioned Dr. Hemant Pendse from the University of Maine as one of Maine's assets. Agreed! For a richer account of Senator Collins' talk, see my Twitter feed here.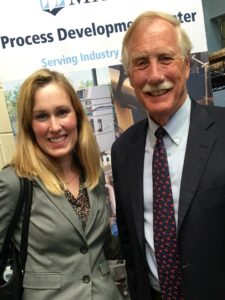 Biobased Maine's Executive Director with Senator Angus King, who said during the press conference that "no fish should leave Maine with its head on." What he means is that Maine is not a plantation state where resources are harvested and shipped elsewhere for processing. We have the assets in Maine in support advanced manufacturing. For more from Senator King, see my Twitter feed here.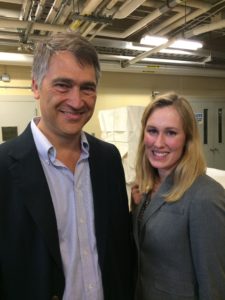 Mike Bilodeau, Director of the University of Maine's Process Development Center and the Nanocellulose Pilot Plant, with Biobased Maine ED Charlotte Mace. The University of Maine has been a critical partner in this work.
For more on EDA's announcement, check out these articles by Portland Press Herald, Bangor Daily News, and MaineBiz.